Yoga and Ayurveda in India
with Suddha Weixler
January 3 -16, 2019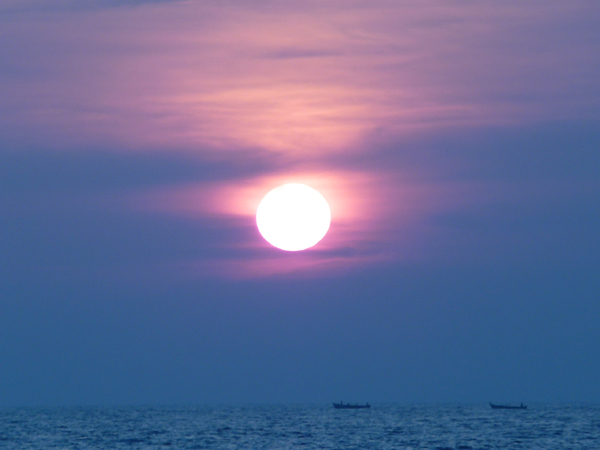 With the Arabian Sea to the west, Kerala is situated on the southwestern coast of India.Unique geographical features have made it one of the most enticing tourist destinations in Asia.Bestowed with a pleasant climate, Kerala is a tropical land of serene, wide sandy beaches,lush hill stations with exotic wildlife, waterfalls, sprawling plantations, and picturesque backwaters interconnected with canals and rivers. Kerala is a land of diverse religions, and one of India's most progressive states. With one of the highest literacy rates, great social welfare, and world-class health care, the people of Kerala have the longest life expectancy in India. Kerala is India's cleanest state, peaceful, pristine, and prosperous.

Kerala is also famous for Ayurveda —the Indian system of medical treatments and holistic healing evolved over millennia, promoting the natural harmony and balance of body, mind and spirit. Cleansing, detoxifying, restoring, and rejuvenating the individual are the method of Panchakarma. Toxins accumulate in the body as a result of various metabolic activities. The elimination process relies on effective, non-invasive treatment procedures, including medicated oils, massage, herbs, and a special diet in combination with a restorative yoga practice, pranayama, kriyas, mudras, bandhas, and meditation.

We stay in a beautiful little beach town, on a famed shore of the Arabian sea, about an hour from the International Airport of Thiruvananthapuram (TRV). The sacred town is a holy place for Hindus, known as a pilgrimage center with a temple thought to be more than 2000 years old. The beach resort sits in the midst of a lush green garden and palm trees, perfect for tranquil retreat. Enjoy warm hospitality and privacy, a swimming pool, multicuisine restaurant, and Ayurvedic Center. Rooms offer A/C, and modern amenities. Take a short walk to the red cliffs for panoramic views and sunsets, or to a variety of small stalls and international restaurants with an easygoing backpacker vibe. Average temperatures will be a pleasant 72-84 Fahrenheit.

We will be accommodated in ten rooms. Meals are based on guidance by the Ayurveda physician. Each day you may consult with the doctor to reevaluate and receive specific treatments and supplements. We will practice yoga outside on the roof of a building in fresh air. The cost of the retreat includes 9 days of Ayurveda treatments, 13 nights accommodation, with three meals a day, yoga instruction, and scheduled transportation to/from the airport. An optional (half a day) Backwater House-boat trip is offered at the conclusion of the treatments.

The cost of the trip starts at $2,150, double occupancy, (single supplement limited). Airfare is not included, or meals when sightseeing, taxes, tips or private ground transportation. We will travel as a group or help participants arrange their air transportation. Travel insurance is strongly recommended.

Due to limited space and high season early registration is encouraged.
If you have any questions, please call Suddha at 773.327.3650 or 847.866.6812
Yoga classes will be taught by Suddha Weixler, including meditation, and talks on the history of yoga and its philosophy. Suddha began studying yoga in 1978 on his first visit to India. He spent eight years in a monastic environment learning the classical system. Suddha was certified in 1984 and is the Director
of the Chicago Yoga Center.
Initiated into Raja Yoga and Meditation in 1982 by Swami Narayanananda his training includes classical Hatha, the Iyengar method, Ashtanga Yoga with Sri K. Pattabhi Jois in South India and Vinyasa Krama of Sri T. Krishnamacharya as taught by Srivatsa Ramaswami. Suddha has been an Adjunct Associate Professor at the School of the Art Institute of Chicago since 1989, and enjoys the art of photography.

On request, Yoga teachers receive 35 hours of Yoga Alliance CEUs.
---