PRES(SURE) POINTS FOR PAIN AND STRESS MANAGEMENT


with ELA SIRAGUSA, Lac, C-IAYT, YACEP
Saturday, February 29, 2020, 12:00 — 2:00PM, Cost $40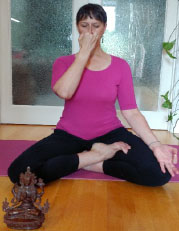 For thousands of years people discovered that by pressing certain areas of their bodies they were able to realize beneficial changes in their bodies, minds and emotions.
What can be better than learning a pressure point for the tension in your shoulders that has been nagging you!! Or, for your lower back ache, headache or tiredness you've been experiencing for a while? How about learning how to clear your mind of stress, so that you will be focused for a longer period of time without feeling drained?
Come and learn pressure points that will reduce pain and physical discomfort, induce a state of "feeling good," and refresh, re-energize, and increase focus and relaxation. You will learn:
how to easily locate effective pressure points;
how to easily access them in a yoga pose or during daily activity (sitting/standing);
the benefits of utilizing these pressure points; and
easy to do methods of stimulation of certain pressure points.
The workshop will be very informative, and taught in a friendly, relaxed atmosphere. This workshop is beneficial for both yoga and non-yoga practitioners. You will leave feeling better, and confident you can use the effective techniques you learned to reduce any aches and pains you may have.
YOU WILL GO HOME WITH ALL YOU NEED TO START
TO FEEL BETTER RIGHT AWAY!!
Come and join us! Sign up at ela@pranapathways.com or text 773-860-5795
Payment: Zelle to elasiragusa@yahoo.com or PayPal to suddha@mindspring.com
Ela Siragusa is a Yoga Teacher, Yoga Therapist and Diplomate Acupuncturist who has been a dedicated practitioner of Yoga, Bodywork, and Oriental Medicine for more than 25 years.
She brings into the yoga studio significant knowledge and experience and presents complex information in a very accessible manner. She encourages participants, whether beginners or advanced, to explore all aspects of a balanced yoga practice, consisting of Asanas, Pranayama, Bandhas, Mudras, Visualizations, Meditation and Deep Relaxation. You will leave with practices that you can use immediately in your daily life to bring you joy and vitality.

- Yoga Alliance CEU's pending.