MOVE IN BALANCE - Yoga Somatics
With Joanne Barrett
Saturday: September 21, 2019; 1:00 - 3:00PM, Cost $35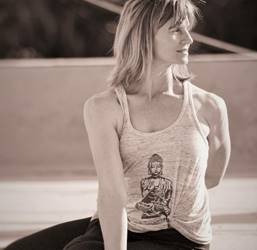 Move in Balance is a workshop which will explore the integration of a variety of disciplines: yoga, basic movement improvisation and Somatic exercises that emphasize learning from within and aim to weave together Body-Mind and Spirit.
We will create "space" in our joints, paying attention to the architecture of the body to "glide" into balance. This workshop is playful, and available for all levels of practitioners. Wear comfortable clothing, long sleeves and pants that cover the knees. Ages 15 and up!!
Joanne Barrett Joanne Barrett leads a creative life by teaching movement and Yoga through a Somatic lens. Teaching is her way of giving, sharing, and staying connected with community, lending itself to personal growth; a continuation of exploring and learning. She studied modern dance and ballet, then danced professionally in the US and abroad. In 2009 while living in Miami and raising 2 children, she trained in the Ashtanga Yoga Method and the Anusara style as well as Yoga Ed. K-12. Joanne completed Restorative Yoga -the Art of Rest (das Atemhaus 2019) and is currently working toward her certification with Moving On Center -the school of participatory arts and somatic research (Berkeley). She is RYT 200 with Yoga Alliance and owned Upstairs Yoga (Miami) for 3 years, before moving to Chicago in 2019. The following yoga/movement teachers have shaped her path: Suddha Weixler, Manju Jois, Tim Miller, Scot Hendricks, Marisa Gallardo, Lino Miele and many more.