Yoga in Austria
with Suddha Weixler
June 17 - 24, 2023

Carinthia - Austria's southernmost state in the Eastern Alps, is noted for its mountains and lakes and dotted with small lively cities and sophisticated villages. It is a land in the Alp-Adriatic Region, bordering with Slovenia and Friuli-Venezia Italy. Three countries, three regions, three cultures, each unique yet closely related.
A flourishing borderland with one of Europe's most fascinating areas in lifestyle and customs and of course the art of cooking. The southern slopes of the Alps make for a mild climate with plenty of sunshine and a Mediterranean flair, the people locally rooted, yet open and welcoming.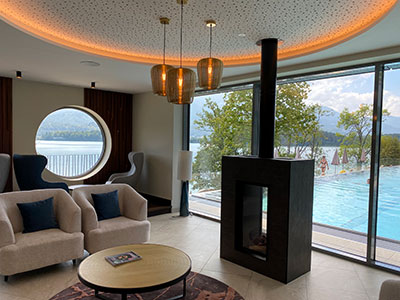 We will be staying in a 4-star Hotel on Lake Faak, ideally situated for day-trips, the Italian and Slovenian borders are just a few minutes away by car. It is a stunning lake with turquoise water and spectacular views of the surrounding mountains and forest.
Known for its gourmet cuisine and fine dining; included are an extensive breakfast buffet offering regional specialties, and a six-course evening menu with a choice of three main dishes. The extensive wellness options include an indoor swimming pool, saunas and steam baths, whirlpool and fitness room, outdoor Infinity pool and tennis courts.
The fully equipped Spa offers a wide range of services. Free Wi-Fi and bicycles and row boats are available. In addition, there is the option of E-bike rentals and a variety of water sports, windsurfing, sailing school, stand-up paddleboarding, kayaking, and guided hikes and cycling tours. This is also a great place to just rest and unwind with nature in its purest form and fresh Alpine air.


The cost of this trip starts at $2240. This includes your accommodation, double occupancy, (single supplement is available), breakfast & dinner, and yoga instruction. Not included: meals when we travel or sightsee, ground transportation and air fare. We will fly into Vienna and take a four hour train ride through the Austrian countryside to the resort on June 17th.
Depart Chicago or the US on Friday, June 16th, to arrive in Vienna on Saturday, June 17th. The retreat ends on Saturday June 24th.


Another option is to come for the extended stay, early arrival. Vienna is one of the most beautiful cities in Europe. The "city of Music" is known for its high quality of life, culture, tourist attractions, museums, art, architecture, parks and palaces.
Option for early arrival: Not included are two overnight stays in Vienna, June 15 and 16, (departing Chicago or the US on June 14).
For detailed information on Flights, hotel in Vienna and transportation please contact Suddha. Early flight arrangements are encouraged.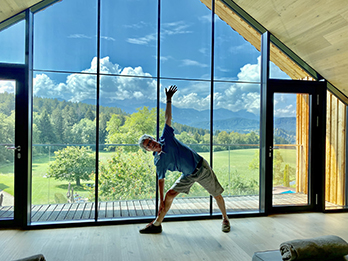 Yoga classes will be taught by Suddha Weixler, with talks on its philosophy and history. Suddha began studying yoga in 1978 on his first visit to India. He spent eight years in a monastic environment and was certified in 1984, he directed the Chicago Yoga Center for over 35 years. Initiated into Raja Yoga and Meditation by his Guru Swami Narayanananda, his training includes classical Hatha, the Iyengar method and Ashtanga Yoga with Sri K. Pattabhi Jois in Mysore, South India. He retired from his Adjunct Associate Professorship at the School of the Art Institute of Chicago in 2019. He enjoys the art of photography.